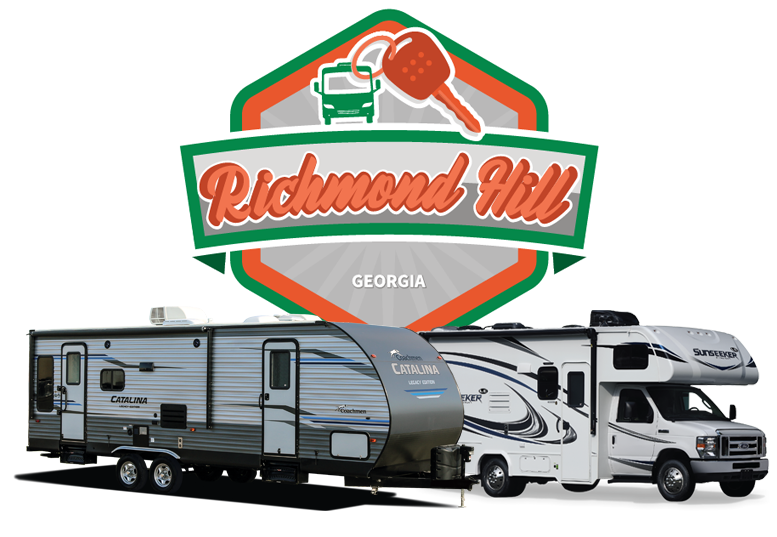 Campers INN RV
of Richmond Hill, GA
Your Adventure Starts Here
250 Longwood Drive | Richmond Hill, GA 31324
Featured RVs
Click, call or come on by 912-756-6606

MSRP:

$47,832

You Save:

$20,334

Sale Price:

$27,498

Payments from:

$223 /mo.

Free Onan 2500watt generator! Limited time offer. Call 912-756-6606

MSRP:

$55,974

You Save:

$25,976

Sale Price:

$29,998

Payments from:

$243 /mo.

It's Surprising How Affordable RVing Can Be Call, Click, Text or Visit Us Today!

List:

$35,999

You Save:

$6,000

Sale Price:

$29,999

Payments from:

$273 /mo.

Life is Meant For Adventure. Stop Dreaming, Start Driving!

MSRP:

$210,540

You Save:

$50,542

Sale Price:

$159,998

Payments from:

$1,151 /mo.

Travel in style with plenty of additional sleeping choices - start with Campers Inn RV

MSRP:

$187,830

You Save:

$52,835

Sale Price:

$134,995

Payments from:

$971 /mo.

Let's Go Places Together - On Demand 4 Wheel Drive

MSRP:

$216,537

You Save:

$68,547

Sale Price:

$147,990

Payments from:

$1,064 /mo.

UNBELIEVABLE PRICING! Adventure is out there. Stop dreaming, start driving!

MSRP:

$224,472

You Save:

$74,474

Sale Price:

$149,998

Payments from:

$1,079 /mo.

Take this motor home with you on your next vacation!!! A must have at this price!

MSRP:

$127,477

You Save:

$29,479

Sale Price:

$97,998

Payments from:

$705 /mo.
Buy Your
RV Online
Buying an RV can be a daunting task, but with our RV Matchmaker portal, you can easily shop, match and buy your perfect RV from the comfort of home with our industry knowledge helping you every step of the way!
RV Service
& Parts
At Campers Inn RV, all our dealerships are full service, so we can take care of you at home and on the road. Click below to view our services and find your nearest location.
About Our
Richmond Hill Dealership
RV Sales in Richmond Hill, GA
Campers Inn RV of Richmond Hill is the premiere RV dealer for Richmond Hill and Savannah RVers, providing a full suite of services from sales, RV service and maintenance, as well as providing fully stocked RV parts and accessories stores for customers and nearby campers.
At Campers Inn RV, we have built generations of knowledge around RVs and the RV lifestyle and our dedicated RV Matchmakers are here to answer any question and ensure that you can find the right RV for your family and budget.
Contact us today and let us know how we can help you find your dream RV.
RV Service and Parts
Have a quick maintenance issue or a larger repair problem? Our RV Repair and Service Center is ready to support all your maintenance and repair needs with our highly trained and professionally certified technicians. Need a particular RV part while camping? Our Parts and Accessories Store is stocked with everything you'll need for your RV adventures, whether it is a hard-to-find or a must-have item for the road.
RV Jobs in Richmond Hill
If you are looking to kickstart a new career or advance your career in the RV industry, Campers Inn RV is always looking for dedicated individuals who are willing to uphold our company core values of integrity, teamwork, continuous improvement and corporate sustainability to take care of our customers and each other.
Campers Inn RV is dedicated to being the Trusted Resource and preferred RV dealership for its employees. We are proud to offer a wide range of career opportunities for all interests and skill levels at our dealerships -- from sales, customer service and administrative services to RV technician and managerial positions -- there are a wide variety of RV industry jobs available at Campers Inn RV.
If this sounds like the right fit for you – click below to browse jobs in your area and apply today!
Apply Now